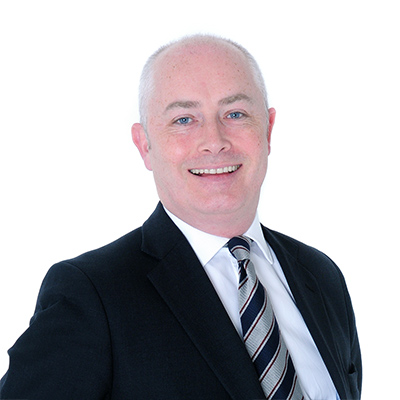 Greg Mahon Chartered FCSI
Chartered Wealth Manager & Branch Principal
Greg established Raymond James, Chichester in March 2020 to manage investment portfolios for private individuals, associated family trusts and pensions, as well as charity clients.
Greg spends the majority of his time managing client portfolios and is part of the investment team.
Greg has spent his entire career in the finance industry, the vast majority of which has been private client investment management, having started in institutional stockbroking.
Until November 2019 Greg was head of Rathbones investment management business in Chichester where he had worked for 17 years, the first 8 years as an investment director and the latter 9 years as regional head, responsible for the Chichester office, its management, direction, and future development. He sat on the regional management committee as well as various other committees and projects.
During the 17 years Greg was at Rathbones he led the team as well as the strategy, which grew assets under management from below £100m to over £600m.
His client base is largely made up of individuals, family groupings and charities. His clients are mainly concentrated in West Sussex and London, with a few overseas.
Prior to Rathbones, Greg worked for Premier Asset Management developing its private client business, including the acquisition of Johnson Fry's private client business from Legg Mason. Greg spent 9 years working for Murray Johnstone Private Investors both in London & Glasgow and was one of two principals responsible for establishing the private client business at the HQ in Glasgow.
He has also worked for Smith New Court (now Merrill Lynch) both in market making and institutional sales-trading.
Greg is a Chartered Fellow of the Chartered Institute for Securities & Investment and a Chartered Wealth Manager. Having achieved the Investment Management Certificate (IMC), Greg is also an IMC member of the CFA (Chartered Financial Analyst) Society of The UK.
Greg is a trustee board member of 2 locally based charities, Stonepillow and The South Downs National Park Trust, and involved with a number of community-based projects in and around Chichester, as well as the wider county.

Ian Creswick Chartered MCSI
Senior Investment Analyst
Ian joined Raymond James, Chichester as a Senior Investment Analyst.
Ian is part of the investment team and has input into the investment process at both a macroeconomic level as well as stock and fund selection. His duties include ensuring the investment process is up-to-date with global economics, on which he updates the team during the weekly investment meeting.
The investment team with Ian's help ensures portfolios are kept in-line with the mandate the client has agreed with Raymond James, and Ian spends a considerable amount of his time monitoring this.
Ian has spent his entire career in investment management and banking. He has a wide knowledge of markets, taxation and financial affairs of private clients, trusts and charities. Ian is skilled in investment strategy, asset allocation and fund selection.
Before joining Raymond James, Ian worked for Thesis Asset Management, now Sanlam Wealth, as a Research Analyst where his responsibilities included direct UK equity selection and managed funds, sitting on the various investment committees. Prior to this role, Ian was an Investment Manager providing portfolio management for private clients, trusts and charities.
Ian worked previously as an Investment Manager at Hawkins Russell Jones Solicitors and also for Lloyds Private Banking where he started as a graduate trainee.
Ian is a Chartered Member of the Chartered Institute for Securities & Investment. Ian has attained the Trustee & Investment Diploma 1990, and Banking Diploma 1985 from the Chartered Institute of Bankers now Institute of Financial Services.
Ian has an MA from Merton College, Oxford University, where he studied Classics and Theology.
Ian is a Director (Governor) of Bishop Luffa School, Chichester, and active member of St Paul's Church Chichester.

Rebecca Carvey Chartered MCSI
Private Client Executive
Rebecca is a Private Client Executive for Raymond James, Chichester, working closely with Greg & Ian and part of the investment team, Rebecca ensures that individual strategies agreed upon for the clients are monitored and maintained. Rebecca also ensures high levels of client service, overseeing the function of our Client Services Executive. Rebecca attends the Wednesday investment meeting, along with all members of the team.
Until October 2018, Rebecca worked for Rathbones, her final role as BDO (Branch Designated Officer). Rebecca started her career at Rathbones in 1998 as executive assistant to a team of investment directors. She then moved to London in 2000 for a similar role where she was an active member of Finance 4 Women.
During her 20 years at Rathbones, Rebecca became one of the most senior CSE's (Client Service Executives) in the Rathbones Group, as well as assisting the investment directors in a client facing role, Rebecca was BDO, responsible for the internal compliance procedures within the office. She was also RMC (Regional Marketing Co-ordinator) leading all marketing initiatives and events for the Chichester office.
Rebecca is a Chartered Member of the Chartered Institute for Securities & Investment, she holds the SFA Registered Representatives Examination, the CISI Diploma Compliance examination, and is an alumna of the Royal Society of Arts (RSA) with a Higher Diploma in Administration and Secretarial Procedures.
Rebecca is a Trustee of the Newell Foundation, a charity which looks after the elderly. She has also been involved in fundraising for a number of charities including the MS Society.

Anna Carvey
Client Services Executive
Anna is a Client Services Executive within the Raymond James, Chichester office. She is responsible for all aspects of client administration including effective reporting and the answering of administrative queries, allowing the investment team to concentrate on the investment of client portfolios. Anna attends the weekly investment meeting, and along with all staff, is fully appraised of the investment team's current thinking.
Immediately prior to joining Raymond James, Chichester, Anna worked for Rita Sen, a firm of Private Client Solicitors. Anna worked on Probate, Wills and Lasting Powers of Attorney and has considerable knowledge in these areas along with Trusts and Estates.
Anna has also worked for Thomas Eggar (now Irwin Mitchell) in a similar role, and also for Wannops Solicitors LLP.
Between 2012 and 2014 Anna worked for Rathbones as an administration assistant, assisting the investment directors in a similar role to her current role at Raymond James.
Anna has an EDI Level 3 certificate in Principles of Business & Administration, as well as having achieved the Pitman Secretarial Diploma.
Prior to moving into the Finance and Legal profession, Anna worked in childcare, during which time she achieved the NVQ level 3 – Childcare, Learning and Development as well as the NVQ Level 2 – Early Years, Care and Education.

Camilla Eely
Office Manager
Camilla joined the team having had previous experience working with them at Rathbones, between 2018 and 2019.
Camilla helped establish the new Raymond James office, and is responsible for its smooth running and management, and ensuring the team are able to operate with everything they require. This in turn enables them to concentrate on investment management and client care.
Camilla is an integral part of ensuring client care is at its best, particularly assisting Anna, our Client Services Executive. She also assists with the office accounts and deals with outside suppliers, as well as being responsible for health and safety, first-aid and all matters pertaining to the office functioning. Camilla has held similar roles throughout her career.
As well as this, she has responsibility for managing marketing events, sponsorship and advertising, working with the rest of the team to support the business development activity and liaising with Raymond James HQ central marketing function.